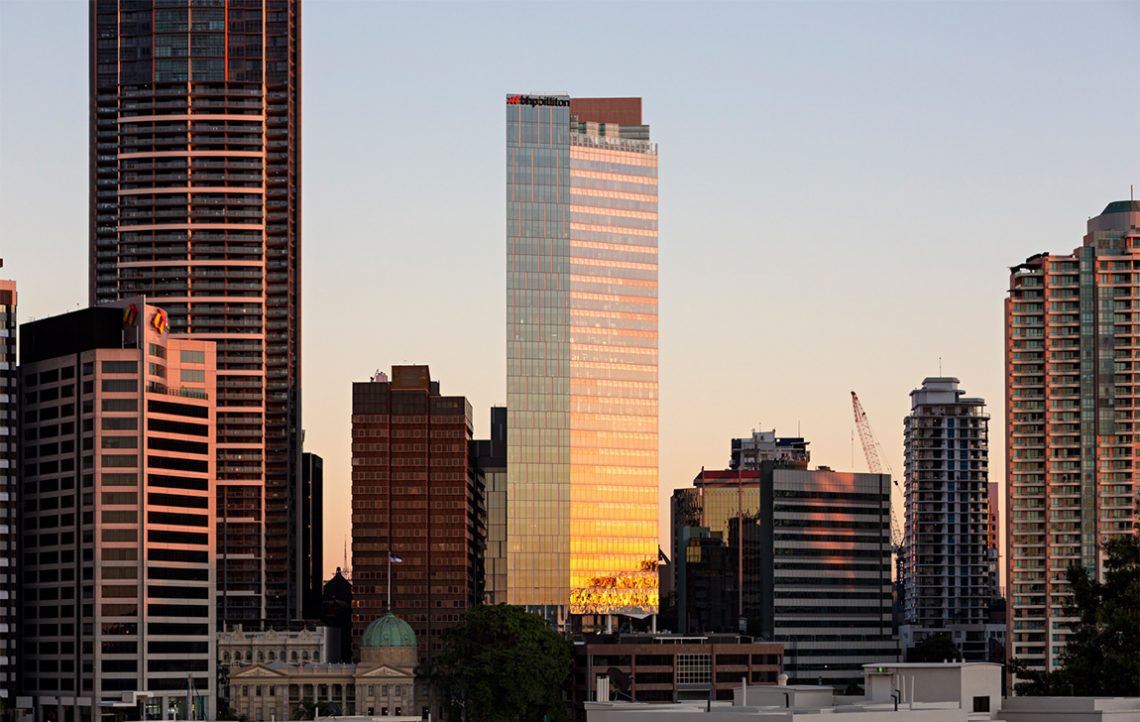 Australia's first elevated public park within an office building is taking its first visitors with 480 Queen Street in Brisbane (480 Queen) now open for business.
The next-generation CBD office building, with Hobbs Park perched high above the street on Level 4, another grove of trees on its Level 32 rooftop (The Grove) and a striking blue mural that winds through the public areas, is attracting enormous interest, with a steady stream of sightseers since the construction hoardings came down.
Premier Annastacia Palaszczuk will officially open 480 Queen tonight (Thursday June 9) at an event held at the Grove, with Lord Mayor Graeme Quirk, Grocon Chief Executive Officer Carolyn Viney, and DEXUS Property Group (DEXUS) CEO, Darren Steinberg officiating.
480 Queen is owned by DEXUS and DEXUS Wholesale Property Fund, and is managed by DEXUS. The building was developed and built by Grocon.
Grocon Chief Executive Officer Carolyn Viney said the 480 Queen designers had set out to contribute to the broader CBD precinct and create a place for the community, not just the tenants who work there.
"This is a building for all of Brisbane and we're delighted that people seem to have embraced it already," she said.
DEXUS CEO Darren Steinberg said 480 Queen's list of quality tenants was evidence that it had also achieved its goal of being Brisbane's ultimate business address.
"480 Queen sets a new standard – it's a Premium building in a premium location, and with people at the heart of its design our customers will enjoy the increased efficiency that comes with a flexible and inspiring workplace.
"Combine that with a focus on sustainability, public art, and precinct activation and you have a workplace that sets a new standard in Australian office."
The building is home to some of the most progressive Australian and global businesses including BHP Billiton, PWC, Regus, Mitsui, Arrive Wealth Management, and law firms Herbert Smith Freehills, Allens, HWL Ebsworth and DLA Piper. Most of those businesses have moved into the building over the past few weeks.
OTTO Brisbane, which overlooks Hobbs Park, Customs House and the Brisbane River, officially opens next week. OTTO is the first Brisbane venture by Fink Group, the operators of landmark Sydney restaurants Quay (the Rocks), Bennelong (Sydney Opera House) and OTTO (Woolloomooloo).
The tenants will enjoy a range of facilities within what is effectively a vertical village.
480 Queen includes a childcare centre, a boutique gym featuring an altitude training room, a pharmacy, a barber shop, a food gallery and end-of-trip facilities  – 600 bike spaces, 500 lockers and 45 showers.
A giant, 350 square metre glass tile rainforest mural, by acclaimed Queensland-born artist Danie Mellor provides a striking backdrop to the journey up to Hobbs Park. The artwork, like the park itself, is attracting plenty of interest from passers-by.
Hobbs Park is overlooked by a 100-seat amphitheatre for tenants' events and has its own café and bar, part of an eclectic mix of food offerings within 480 Queen.
The 1,400 square metre park aligns with the grounds of St John's Cathedral on the opposite side of Adelaide Street, preserving views from the cathedral to the river and creating stunning new views of both for visitors to 480 Queen.
The public open spaces, cycling facilities, and innovative construction methods all contribute to the building achieving a 6 Star Green Star environmental rating, which represents world leading practice.
ABOUT GROCON
In Queensland, Grocon has successfully completed Brisbane's 55 Elizabeth Street office building, Oracle on the Gold Coast and is currently constructing the Commonwealth Games Village at Parklands.
In delivering 480 Queen Street, Grocon has delivered on its core values of safety, sustainability, community and innovation, generating a six star Green Star building, genuine community outcomes through the public park, remarkable public art and precinct activation, and an exceptional safety record.
Some of the iconic landmarks created by Grocon include the Pixel in Melbourne, currently considered the greenest building in Australia, Rialto Towers, Eureka Tower and AAMI Park in Melbourne and No 1 Martin Place and 1 Bligh Street in Sydney.
ABOUT DEXUS
DEXUS Property Group is the owner and manager of 480 Queen Street, and with its partner DEXUS Wholesale Property Fund, acquired the building on a fund through basis from Grocon while it was under development in April 2013.
DEXUS is one of Australia's leading real estate groups, investing directly in high quality Australian office and industrial properties. With $21.5 billion of assets under management, the Group also actively manages office, industrial and retail properties located in key markets around Australia on behalf of third party capital partners.
DEXUS is the largest owner and manager of office space in the Brisbane market with a long term commitment to the city.
In 2011 DEXUS developed 123 Albert Street, Brisbane's first 6 star Green Star office tower, and today it owns or manages the premium Golden Triangle office properties of 12 Creek Street (Blue Tower), 10 Eagle Street (Gold Tower), Waterfront Place Complex 145 Ann Street and AM60. DEXUS's continued investment in quality Brisbane properties is testimony to the commitment DEXUS has to the Brisbane business environment.
Media Contacts
Grocon media contact:
Peter Kelly
0416 159985
DEXUS Property Group media contact:
Louise Murray
0403 260 754
[email protected]