Construction has commenced on Grocon's $40 million Greenwich Fairfield project in Melbourne's inner-suburban Fairfield.  The official start of construction was marked today with the first 'turning of the sod' by Cr Susan Rennie from the City of Darebin, Grocon's Executive Chairman Daniel Grollo and Jason O'Hara, Construction Director of Atelier Projects. The former RSL site in Railway Place will be redeveloped over the next year and a half to become one of the area's most sustainable and socially aware apartment developments.
The appetite of owner occupiers in Melbourne for homes that are sustainable, accessible and connected to their community has impelled Grocon to deliver an innovative and sustainable development. Greenwich will be a 5 star GreenStar rated development using the Green Building Council of Australia's (GBCA) "Design and As Built tool" – a rare example of the use of this tool in the City of Darebin. The project will feature two separate buildings linked through extensive landscaped external areas. All apartments feature; good natural ventilation, abundant daylighting, intelligent use of sustainable materials and access to secure bicycle parking and storage.
In addition to its Greenstar sustainability rating the project will also be certified to the Livable Housing Australia (LHA) guidelines which are designed to provide better access, circulation and facilities for people with special needs, be they elderly Australians, young families with strollers and child rearing paraphernalia or people with temporary injuries. The LHA guidelines provide for slightly wider and easier circulation within developments from the step-less front doors through the corridors and lifts, and into each dwelling. The standard also requires the reinforcement of bathroom walls to allow the ready installation of grab rails and other accessibility devices as people's needs change over time.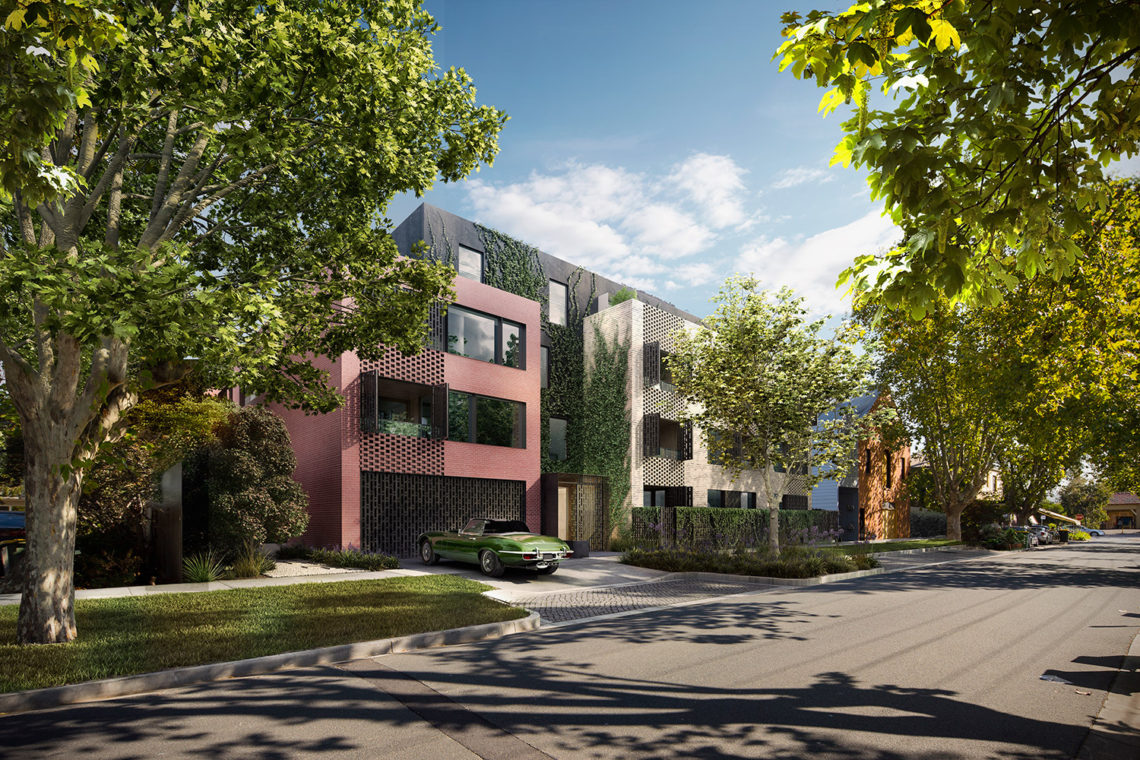 Through thoughtful design Grocon has created an enviable product evidenced by a near sell out in just over a month. Grocon's Head of Residential Christian Grahame said "Grocon are delighted with the public's response to the project. The very high number of local owner occupiers highlights the underlying demand for well-designed quality apartments in Melbourne's established suburbs. Greenwich is one of a number of projects Grocon will create in Melbourne and Sydney this year, all with a focus on good design, sustainability and liveability".
The 77 one, two and three bedroom apartments have been thoughtfully designed to integrate seamlessly with the surrounding neighbourhood creating a mini local precinct with two independent buildings that will embrace a verdantly landscaped courtyard. Greenwich's outdoor spaces will be replete with indigenous planting, sheltered nooks, shaded seats and courtyards with walkways meandering beneath timber 'lantern' structures to create a sense of quiet privacy and tranquil comfort. Residents will enjoy relaxing by the outdoor fireplace situated within the leafy gardens.
Grocon Development Manager David DePropertis said "we asked award-winning Melbourne architecture firm Jackson Clements Burrows and Brisbane based landscape architecture firm Lat27 to combine to prepare a compelling vision for the development form the building forms and scales to the outdoor spaces. The outcome is a really pleasing mix of human scaled elements, natural brick tones, timber and planting giving a people-scaled, neighbourhood feel".
In recognition of the need to respond to the pressure of affordability of housing and homelessness Grocon has committed all of its projects as part of The Big Issue's Homes for Homes scheme. In this respect purchasers at Greenwich have had the ability to enter the project into that scheme and in doing so give something back to the broader community.
Grocon has previously delivered many other landmark Victorian residential projects including; Eureka Tower, the QV redevelopment and the iconic Swanston Square Apartments, which features the face of William Barak on its 31 storey façade. In Queensland Grocon is developing the Parklands Project on the Gold Coast which will be home to the athletes and officials during the 2018 Gold Coast Commonwealth Games after which the 1,270 dwellings will become Australia's largest multi-family precinct.
Greenwich Fairfield is one of a number of quality residential projects Grocon will develop over the coming years, all of which have a commitment to good design and liveability.
Media Contact: Melinda D'Cruze 0408 202 598
For more information:
Instagram @Greenwich_Fairfield