MEDIA RELEASE
The builder of the Parklands Project, Grocon, has marked National Reconciliation Week by granting an Indigenous Support Scholarship to a Griffith University student.
17 year old Kiarna Broomhead is a rarest of students – the only indigenous women among 250 students studying first year engineering at Griffith University.
The $5000 cash scholarship to assist with student expenses will be announced at Grocon's National Reconciliation Week breakfast tomorrow to mark the success of Indigenous Participation at the Parklands project.
Kiarna's scholarship is a centrepiece of a partnership between Griffith University and the Parklands Project that provides work-integrated learning, graduate placement programs, professional development and industry expertise.
The former Browns Plains State High School student is now living at Southport with her mother and says the scholarship will allow her to focus on her studies, with less pressure to be working part-time.
"Engineering is very fitting for me because it gives me the potential to work hard and progress to a position where I can be a role model for younger kids who are struggling with being different," she said.
"This is why choosing to go to university and studying engineering is important to me, because I want to be a person that can help others see that their background does not influence their future."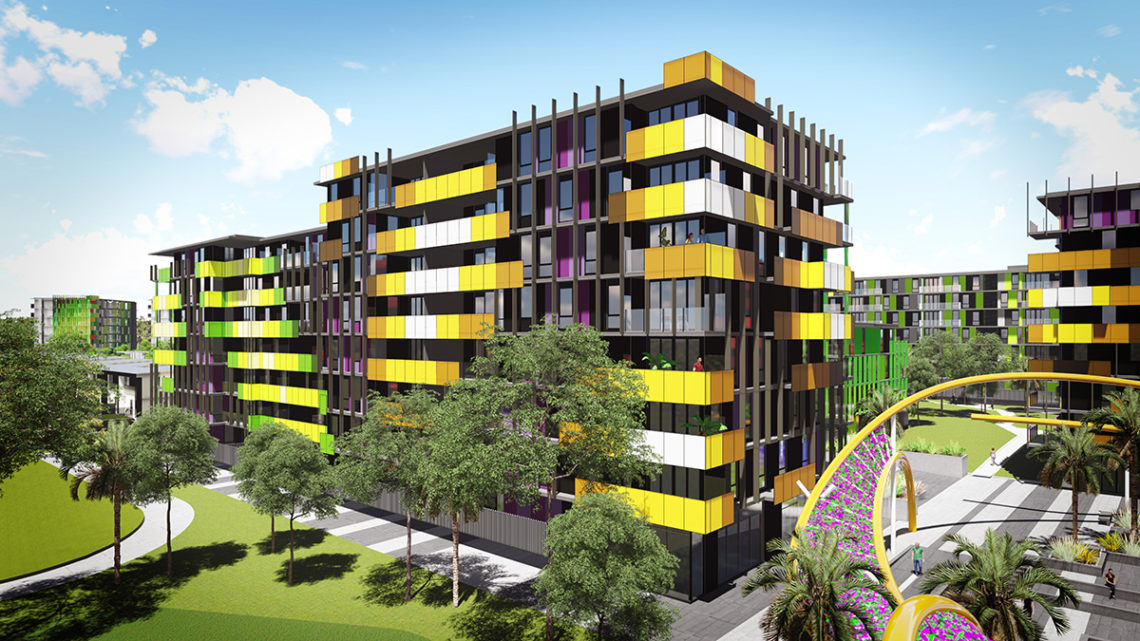 Grocon CEO Craig Mitchell said that, as a leading Australian employer, Grocon had a responsibility to improve employment access and opportunities for Aboriginal and Torres Strait Islander peoples.
Through its Parklands Project Indigenous Participation it had
• benefitted from the work of 128 indigenous employees,
• provided 94499 Indigenous employees hours
• provided more than 8000 training hours to indigenous trainees
• and partnered with 15 indigenous-owned businesses.
Finishing trades are on site at Parklands completing internal fit-outs in time for the scheduled handover to GOLDOC in early October.
Mr Mitchell said a project of the scale of Parklands presented an enormous opportunity to make a difference.
"The Parklands Project serves as an example of the positive outcomes that can be achieved through a dedicated focus on Aboriginal and Torres Strait Islander participation and I hope that a legacy of the project is a brighter future for the people who have worked on it," he said.
"It's part of a commitment to four core values that guide our behaviour at Grocon; safety, sustainability, community and innovation."
The outcomes were achieved through strategic partnerships:
• the team at DMAC Personnel who helped Grocon hire both qualified and trainee Aboriginal and Torres Strait Islander Australians across all aspects of the project
• TAFE QLD, who have helped build the capacity of 15 local Aboriginal and Torres Strait Islander businesses
• and yourtown and the Gold Coast School of Construction who have been integral to the training programs for school students and mentoring apprentices, trainees and project team members.
Mr Mitchell said Grocon had encouraged all Parklands Project team members and the local community to develop a deeper understanding and appreciation of Indigenous culture and history as part of a company-wide Reconciliation Action Plan.
"The plan offers learning and development opportunities to everyone within the organisation to acquire knowledge about our cultural heritage.
"Part of that is providing learning and development opportunities for Aboriginal and Torres Strait Islander people in our office and on our projects."
Media Contact
PETER KELLY
0416 159985